Life does not get any better! You won't want to leave home and I can't blame you, if I lived here, I wouldn't want to leave home either. This home has it all! Luxury is an understatement, for this stunning Prize Home, not many houses can boast direct access to the ocean for a start. If you Win this Prestige Property located at 16 April Court, Maroochydore, Qld 4558, it would be fair to say, your dreams have come true. There will only be 450,000 Tickets sold in yourtown Draw 463, so your chances of Winning Big have never been better!
The Team at yourtown have outdone themselves with this one. This is an outstanding opportunity to own your very own piece of paradise. With stunning street appeal, next you are drawn in by the stairs leading to an inviting entry, this home boasts a contemporary media room, dining room, living room, enormous alfresco, leading to the waterfront decks, 4 bedrooms, 2 bathrooms, a luxury sparkling inground pool, sweeping timber decks, multiple living zones, double lock-up garage, air conditioning, enormous kitchen and floor to ceiling water views, this home captures the essence of resort style living at its very best. Maroochydore is accepted as the Capital of the Sunshine Coast, it has more on offer that any other suburb on the Sunshine Coast and prestige properties are highly sought-after and fetch a hefty price.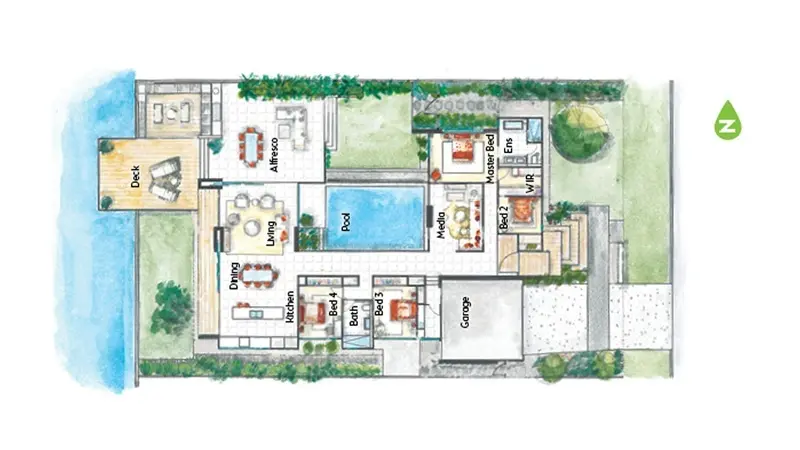 yourtown First Prize valued at $1,904,702. Package Includes;
Millionaire Status comes with the territory
$100,000 in Gold Bullion
$135,774 modern and sophisticated furniture and electrical package
The First 12 months Council and Water Rates paid for
12 months building and contents insurance
Legal fees (transfers and duties are covered
$5,000 Flight Centre Package, so you can inspect your property in person
Multi-Ticket purchasers also win additional Gold Bullion!
734m2 absolute waterfront land
Impressive New Home constructed in 2016 with 343m2 under roof, including 243m2 internal space, 37m2 garage and 63m2 alfresco and entry.
Luxury inground pool with decking
Extensive waterfront decks with frameless glass handrails, including a winter deck with central heat pit
floor to ceiling water views from kitchen, dining, living and master bedroom, and media room.
Polished exposed aggregate floors throughout the living zones
Extra high ceiling through kitchen, dining and living zones
Gorgeous Timber sliding privacy Screens to Kitchen, dining and living zones
All of this could be yours, you could be living the ultimate lifestyle surrounded by loved ones, but first, you need to Buy Tickets to Win!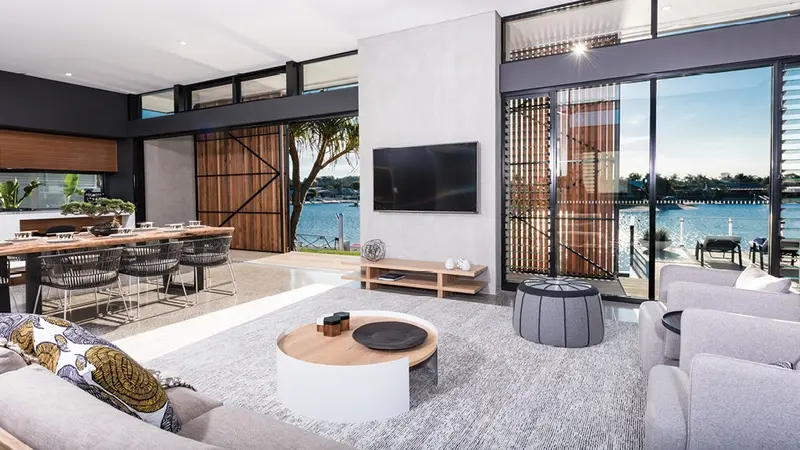 yourtown also have supplementary Prizes for 2nd and 3rd place Winners, which are;
2nd Prize
Flight Centre voucher or David Jones gift card or Harvey Norman gift card Total 2nd Prize Value $10,000
3rd Prize
Flight Centre voucher or David Jones gift card or Harvey Norman gift card Total 3rd Prize Value $5,000
Important dates to remember;
Open for viewing 9 am — 5 pm AEST from 7th December 2016 until 23rd December 2016, re-opening from 28th December 2016 to 27th January 2017. yourtown Draw 463 closes Friday 27th January 2017 10 pm AEST. Drawn Tuesday 31st January 2017 10 am AEST. Draw to be conducted at 16 April Court, Maroochydore, Qld 4558. Public Welcome. Please be mindful of neighbouring homes and abide by local parking rules, as it is also school holidays please be extra cautious in residential areas
Want to Win More?
Eligibility; Buy the specified number of tickets for $15 each, in the same name and if one wins 1st Prize, you win even more....
| Number of Tickets purchased | Price | Value of Additional Gold Bullion |
| --- | --- | --- |
| 1 Ticket | $15 | As Listed in 1st Prize Package |
| 2 Tickets | $30 | $20,000 in additional Gold Bullion |
| 3 Tickets | $45 | $30,000 in additional Gold Bullion |
| 4 Tickets | $60 | $40,000 in additional Gold Bullion |
| 6 Tickets | $90 | $60,000 in additional Gold Bullion |
| 8 Tickets | $120 | $80,000 in additional Gold Bullion |
| 10 Tickets | $150 | $100,000 in additional Gold Bullion |
| 15 Tickets | $225 | $150,000 in additional Gold Bullion |
Come and see the latest yourtown Prize Home Draw 463 for Yourself.
Directions: From Bruce Highway; Take Exit 194 to Sunshine Motorway and drive towards Buderim/Mooloolaba, take the exit to Maroochydore/Noosa Heads, in 6.8 km turn left towards the Bradman Avenue exit, continue on to Duira St, Turn right onto Bradman Avenue, turn right on to Yinni st, continue on to Summer Drive, turn right onto April Court.
Enjoy the Maroochydore lifestyle
You are spoilt for choice in Maroochydore, it really does have everything you could ask for. Some of the attractions in and around Maroochydore are;
Sunshine Plaza has many large chains such as Myers, Kmart, Target, Coles, Woolworths, most major banks, and hundreds of speciality stores. It boasts an enormous eating hall and parking pretty well all the way around the centre, in addition to a 6 Story carpark near Myers. Sunshine Plaza is set to undergo a massive redevelopment, once completed, it will have grown from 73,000 m2 to 707,000 m2, with a New David Jones, a new Big W and additional 100 speciality stores.
Maroochydore Beach is the number 1 attraction according to visitors, a trip on Paradise SeaPlanes is a close runner up. you can take one of many boats that travel along Maroochy River.
There are many more beaches close by, some of the best known would be Noosa Beach, Coolum Beach, Cotton Tree, Mooloolaba Beach, and Kings Beach in Caloundra.
Top Shots FunPark is a favourite with visitors and locals as a good value venue to share quality time with the family. With water dodgem boats, mini-golf, there is the extreme vertical trampoline and dozens of coin-operated arcade games.
Underwater World at Mooloolaba Wharf is a fabulous location for everyone. It has recently undergone a significant refurbishment, so the amenities are looking really sharp. kids will love the touching pool, there are shows daily and lots of opportunities for photographs. If you are brave, you can even swim with the sharks (after feeding time of course).
Close by at Glasshouse Mountains is Australia Zoo, made famous by Steve Irwin. A day trip here is an absolute must, otherwise, you can't truly say you've been to the Sunshine Coast. Australia Zoo is one of the best Wildlife Conservation facilities in the world. It inhabits 100 acres of pristine sub-tropical rainforest, from adorable baby animals in the kid's zoo to tall majestic animals like the giraffes, to Australian animals like kangaroos and Koalas and the reptiles, such as snakes and the famous crocodiles, this Zoo is second to none. The zoo offers an amazing and unique opportunity to learn so much about the beautiful and not so beautiful creatures we share our planet with.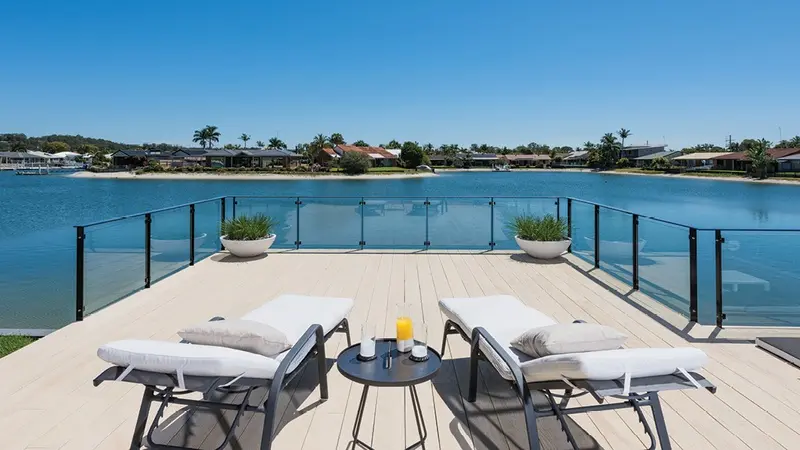 You will be spoilt for choices.
If you are the lucky winner of the yourtown 1st Prize Package including the New Home in Alice Court Maroochydore, you are going to need to do some serious thinking about what you are going to do with this new found wealth. First you will need to decide what you want to do with the House and Furniture Package, then you are going to need to decide what you want to do with all that Gold Bullion. Your major Prize presents you with 4-5 major choices.
1) Move into your new Alice Court Home in Maroochydore.
With your outgoing costs, such as council and water rates, and your home and contents insurance covered, you can move into your new Home confident, that you have nothing to worry about, for quite a while to come. Your home is perfectly located amongst other quality Multi-Million dollar homes. You don't even need to travel anywhere until you need shopping, even then, you can shop online now and have it delivered to your door (hehe). Eventually, you might go back to work or you may even retire and choose to do voluntary work.
2) Rent out your Prize Home, either short term fully furnished, or long term unfurnished.
A regular rental income from a property of this nature would be a fantastic windfall, you can use it to add to your Superannuation, you can save it towards the deposit need to purchase another investment property, or you could invest it in shares. You can move the furniture to your current home, or leave in in your Prize home and rent it as a holiday home, the returns can be much larger, you can have a property manager manage the property for you, so that all you need to do is bank the money and pay the outgoing once a year.
3) Sell this impressive Prize Home from yourtown draw 463 and release the profits.
This would mean that you can choose to invest the funds, however, you like, this may be your preference if you live interstate or too far away to keep a close eye on the property. The massive injection of funds would open so many opportunities for you, such as investing, travel, purchase a business, invest in shares, the opportunities are only limited by your imagination.
4) Borrow against your Prize Home.
If you are already a seasoned investor, you will not be uncomfortable with this concept, however, I can see why this option would make many, shuffle in their seats. This approach is not for the novice investor. By releasing profits without selling, you would be capitalising on perceived future growth of this property, without having to part with it, while still moving on to other properties and investments.
5) Keep or sell the Gold Bullion
$100,000 is a lot of money to have wrapped up in gold bullion! There is no doubt Gold is a great investment, whether that is in investment form or the cold hard variety, Governments invest heavily in gold and many would say gold is king rather than money. Whether it is the best investment for you relies on having a safe place to store the Gold, being able to afford to keep the gold, whether or not you will need to insure your Gold. Whereas if you were to sell the Gold, there may be other investment styles that you are more comfortable with.
Winning sure does come with a lot of decisions to make! We highly recommend you consult with a trusted Accountant of Financial adviser before making any large investment decisions.
Buying yourtown Prize Home lottery tickets means more than having a chance to win a sensational Lifestyle, it offers so many disadvantaged youth, a better lifestyle. Tickets start from as low as $15 and could change your life, secure yours now before they are sold out! We wish you the best of luck!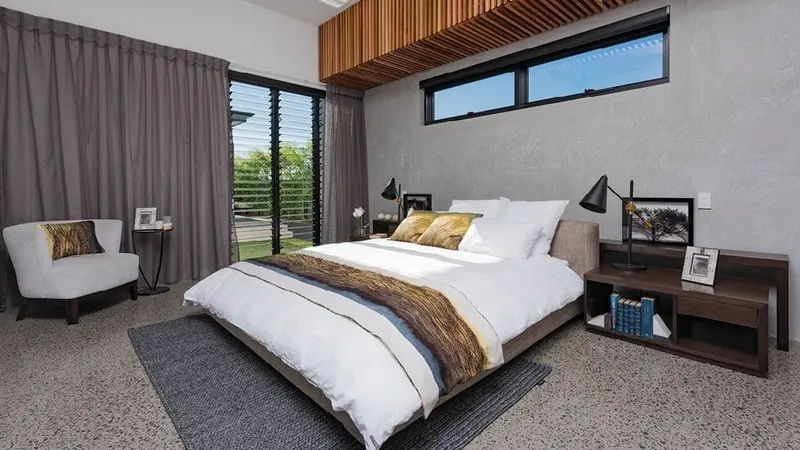 Support yourtown to support our youth.
Every child has the right to a brighter future, yourtown provide them with the resources and tools they need to achieve that, through early intervention programs, access to all-hours support and specialised creative therapies. yourtown provide many great programs to help our youth, where and when they need it most. They strengthen families and communities, provided 'kids helpline' and so much more.
Frequently Asked Questions
Want to know a little more about yourtown Draw 463 and the commonly asked questions? Take a look below:
How many tickets are available?
yourtown Draw 463 has a total of 450,000 tickets available.
When is Draw 463 drawn?
yourtown's latest home will be drawn on the 31/01/2017 and results published here shortly after.
How much is yourtown 463 worth?
Draw 463 is valued at $1,904,702.
How much do tickets cost?
Tickets for this draw start at $15.