What could be better than winning an apartment located in sunny Queensland? Winning three, of course! The opportunity is yours now as RSL 376 is giving away not one but three incredible apartments to one lucky winner. You'll have your pick of where to live; you could be living in Brisbane right along the river, just minutes from the botanic gardens. Or consider living at Main Beach with spectacular views, 250m from the bustling retail and restaurant hub that is Tedder Ave. Your final choice is the Caloundra apartment, with its fabulous kitchen and balcony overlooking the sea. But why choose one when you could be winning all three?
What is your chance of winning?
RSL Art Union are limited to selling 3,090,000 tickets, in draw 376. What is your chance of winning this beautiful home?
You have a 1: chance of winning!
Check Tickets
These three homes could combine to make up your real estate portfolio. If you've ever dreamed of becoming a property mogul, there's no time like the present! Rent or sell all three homes to rake in the cash or decide which is your dream property and move in. A prize this good is hard to find, so grab your tickets today for RSL draw 376 before they are all gone.
The Brisbane Apartment
Brisbane, Queensland
''River Place Apartments' 287/82 Boundary Street, BRISBANE, QLD 4000
Valued at $715,000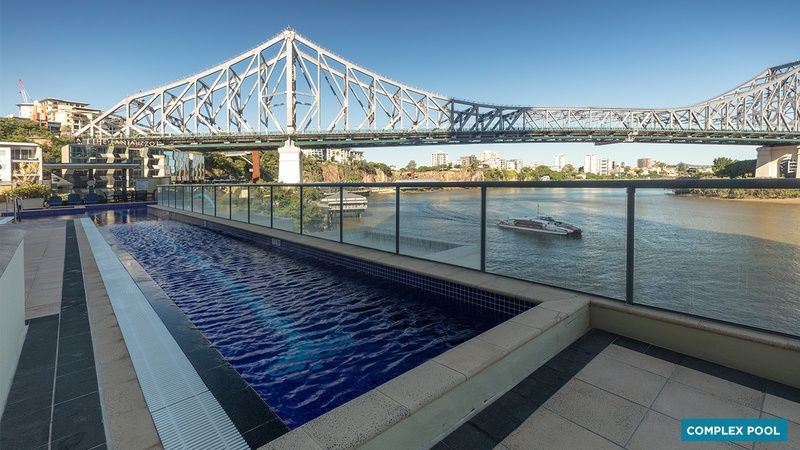 What's the Area Like?
Located right by the Brisbane River in the heart of Brisbane, this area is bustling and full of life. It's the perfect spot for young professionals, young families or those who enjoy the city life. The apartment is nestled in the River Place Apartments only about 2km from the fabulous Brisbane City Botanic Gardens. Stroll along the river to grab a lazy Sunday morning coffee with a view or enjoy the area on a Saturday night when the bars and restaurants come alive.
The Apartment
Live the high life on the 32nd floor of this stunning apartment building. The apartment features two bedrooms and two bathrooms, perfect for a solo resident or couple. There's enough room for a study, art room or child's bedroom. This apartment offers open plan living with an easy flow from the kitchen to the living room. Chat away to your guests while you cook up a storm on the stove. The kitchen is very modern with granite benchtops, stainless steel appliances, and gas cooking. You could be doing the dishes while gazing upon the Brisbane skyline. Enjoy entertaining guests on the large balcony. This balcony is massive, leaving enough room for a table and chairs to fully enjoy the magnificent view of Brisbane.
Property Information
This apartment will become the new safe haven that you'll look forward to coming home to each day. The features you'll enjoy at your luxurious new home include:
BBQ area for the building, perfect for entertaining or lazy summer nights
A secure car parking spot
The building's gym and sauna, as well as a heated pool and lap pool
Furniture and electricals valued at $59,422
The first year of rates & water included with a value of $2,561
Your first year of body corporate fees paid, valued at $7,211
Legal transfer fees all included, worth $1,375
The Main Beach Apartment
Main Beach, Queensland
''Pacific Views Main Beach' 46/5 Woodroffe Avenue, MAIN BEACH, QLD 4217
Valued at $702,000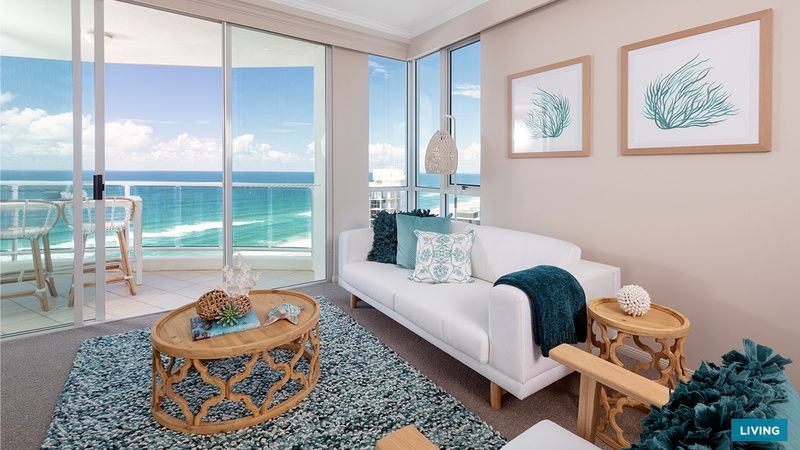 What's the Area Like?
Situated only 250m from the exquisite dining and retail scene of Tedder Ave, you'll enjoy the lifestyle that comes with living in this property. This prize apartment is found in the Pacific Views Main Beach complex. This complex is well-known for its many resort-style amenities. Nearby, you'll be able to take a stroll along the beachfront to enjoy the magnificent ocean views of Main Beach and breathe in the fresh sea air. You can't go past this property for living the perfect beach lifestyle you've always dreamed of.
The Apartment
Facing east towards the sparkling aquamarine waters of the Coral Sea, this 2-bedroom apartment could have you living in the lap of luxury. You can enjoy the spectacular ocean views out to Burleigh and beyond while sipping your morning cup of coffee on the balcony. This property features a bathroom and an ensuite, making it perfect for a small family or couple.
This apartment makes use of all the space available, with plenty of storage and more than ample living space. The built-in wardrobes in both bedrooms give you plenty of room to store your clothing and leave the bedrooms clutter-free. You'll be living close to the light rail station, making transportation and getting to and from work a breeze.
Property Information
Apart from the incredible benefit of being so close to the beach for fun in the sun anytime, this apartment has plenty more to offer. Enjoy the lifestyle this property affords you with amazing features such as:
The building security
Gorgeous Pacific Ocean views
The building's indoor pool, gym, and spa
Built-in wardrobes in both bedrooms
Car parking space for 1 car
Furniture and electricals valued at $44,778
The first year of rates & water included with a value of $5,613
Your first year of body corporate fees paid, valued at $8,768
Legal transfer fees all included, worth $1,375
The Caloundra Apartment
Caloundra, Queensland
''Rumba Resort' 401/10 Leeding Terrace, CALOUNDRA, QLD 4551
Valued at $530,000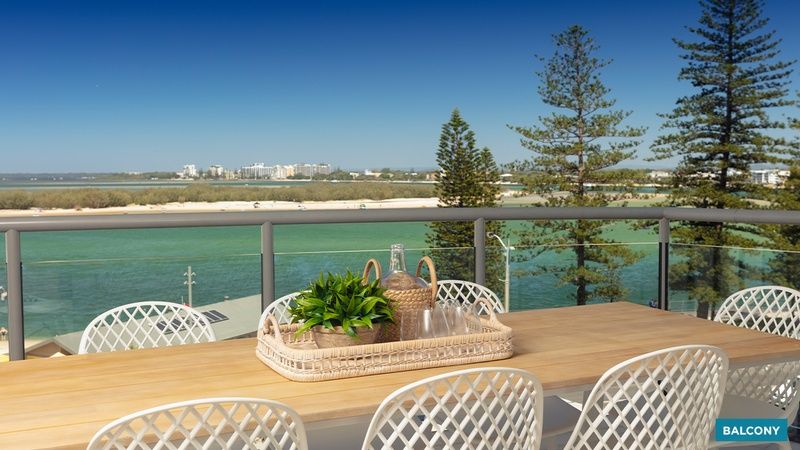 What's the Area Like?
The apartment building overlooks the northernmost point of the Pumicestone Passage - the waterway running between Bribie Island and Caloundra. Plenty of resorts are located nearby due to the magnificent views and incredible scenery.
The building is positioned right in the heart of Caloundra. Stroll on down to the lively beachfront restaurants and cafes just outside your door. Relish the beachfront lifestyle while still having access to all the shops and amenities you could ever wish for right on your doorstep.
The Apartment
This apartment contains the kitchen of any at-home chef's dreams. It offers plenty of space for storage, prepping and cooking. It has a kitchen island offering even more space and a spot where your guests can sit and chat while you cook. Not a cook? Enjoy relaxing in the living room where you can unwind after a long day.
The living room opens onto a balcony where you'll be able to revel in ocean views like no other. There are two bedrooms, and the main bedroom boasts an ensuite complete with spa bath. After a tough day at work, there's nothing better than coming home to a relaxing bubble bath to wash away the worries of the day.
Property Information
Once you've seen this property, you'll never want to leave! This property provides all the amenities and features you could dream of, including:
An underground parking bay
Large balcony for enjoying those ocean views
Upscale kitchen
Spacious bedrooms
Furniture and electricals valued at $45,320
The first year of rates & water included with a value of $3,761
Your first year of body corporate fees paid, valued at $7,650
Legal transfer fees all included, worth $1,375
The total value of the prize including these three luxurious homes is more than 1.9 million dollars. Imagine your new life as a property mogul, as you could be getting a fantastic annual income just from renting out these apartments. All you need is the winning ticket and you're set for life!
Take Note of These Dates
The RSL Art Union Draw 376 closes at 8 pm AEST on Wednesday 24 June 2020. The draw will take place at 10 am AEST on Wednesday 1 July 2020 at Anzac House, 283 St Pauls Terrace, Fortitude Valley QLD 4006.
Members of the public are welcome to attend. Why not stop by and see if you're lucky enough to be announced as Australia's next multi-millionaire?
Winners will receive notification from the RSL by registered mail. The results of the draw will also be available on this site shortly after the draw.
Tickets Now Available for RSL Draw 376
To increase your chances of winning these stunning homes in Main Beach, Brisbane, and Caloundra, your best bet is to purchase a ticket book. More tickets means more chances to win and you'll save money by buying a ticket book rather than individual tickets. Spend at least $10 to nab yourself gold bullion to add to your prize package if you're fortunate enough to win. That gold bullion could add that car, holiday or boat of your dreams to go along with your new luxury lifestyle. Spending $15 or more starts to grant you bonus tickets, one of which just might be the winning ticket!
The $50 book is highly popular as it provides you with 13 tickets, meaning 13 chances to win including three bonus tickets! If you are the lucky winner then you'll also receive $85,000 worth of gold bullion. Imagine all the things you could spend that on…
Thank You for Your Support
The proceeds from any tickets purchased go towards the RSL offering support to Australia's returned servicemen and women. This money is vital for these people getting the services they desperately need. We hope that you'll soon be experiencing the conundrum of which of these magnificent apartments to call home. We wish you all the luck in the world for RSL 376.
Frequently Asked Questions
Want to know a little more about RSL Art Union Draw 376 and the commonly asked questions? Take a look below:
How many tickets are available?
RSL Art Union Draw 376 has a total of 3,090,000 tickets available.
When is Draw 376 drawn?
RSL Art Union's latest home will be drawn on the 24/06/2020 and results published here shortly after.
How much is RSL Art Union 376 worth?
Draw 376 is valued at $2,439,208.
How much do tickets cost?
Tickets for this draw start at $5.